A Little Bit About Dolly
I'm sure you are all wondering why I called my guitar 'Dolly'.
Well... I figured that if Willy Nelson called call his guitar ' Trigger' then there was no reason why I could not give my guitar a name.
I called her 'Dolly' after the great Dolly Parton. Also as a child in Britain, we had sweets called Dolly mixtures and I loved the pink ones, which were the same shade of pink as Dolly!
I received Dolly  as a Christmas  present  in 2007 and she has become a favourite to play.
In the last year or so however, I noticed that she was not staying properly in tune, there was a vibration when I played her going from the fretboard all the way up to the machine heads and the lights had stopped functioning on the pickup.
So, obviously, Dolly needed an expert's attention and I had to find the right person to bring her back to her full glory.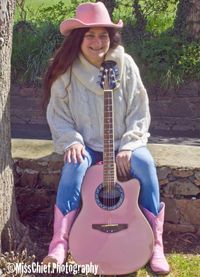 Dolly's Full Makeover
THE STRIPDOWN
After removing the strings, Syfon's first task was to strip Dolly right down - anything that could come off was removed!
Off came the machine heads, saddle, piezo pickup and all of the electrics.
Taking Syfon's advice, we had already decided to replace the original, faulty pickup with a higher quality 'Fishman' soundhole pickup - passive, so has no battery to worry about, or give me problems later.
The graphic EQ and pretty much the rest of the electrics were headed for the bin - although later, Syfon came up with a plan to incorporate the original volume control in my new setup.
In the pic on the right, you can see dolly's machine heads were also off. These were refurbished and are now beautifully smooth and stable.
THE BODYWORK
Now Dolly's lovely pink finish was masked off while Syfon sanded & polished the bridge - beautiful job!
He also replaced the original plastic bridge saddle with one made from bone, for longer life and much better tone.
He then masked off the areas around the neck while he addressed the fretboard and the frets.
Click the image for a larger view and you can clearly see the badly worn frets - Oh, dear.... this could be a big problem...... Well not for Luthier Syfon - wait until you see the finished job... Perfect... Better than ever!
Then the whole guitar was treated to a fantastic full valet service before the machine heads were to be refitted and the new electrics were to be installed.