I'll Be Here - In Aid Of Jersey Hospice Care
Jersey Hospice Care  is a registered charity and  makes no charge to patients 
The annual cost to run these charitable services in 2018  was in excess of £6.7 million (£18,600 per day) 
Funding for these care services is thanks to the generosity of the public
Success At The 2019 Songwriters Awards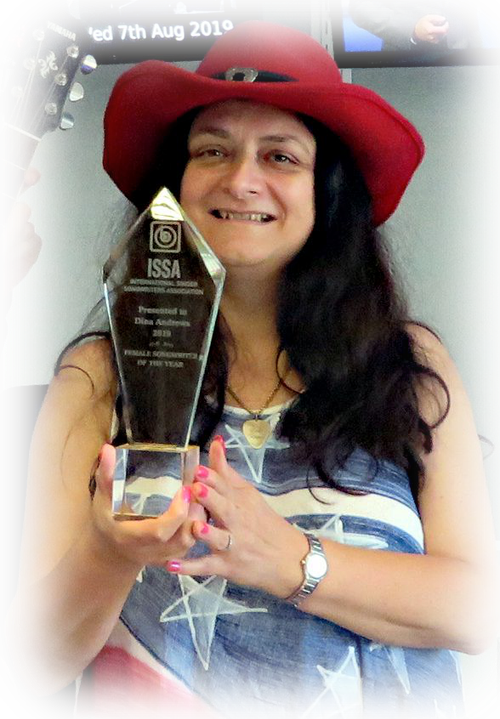 Dina Won Gold At
The I.S.S.A. Awards!
Amazing news about this year's awards!
Dina was nominated for awards in 3 separate worldwide music organisations:
International Singer/Songwriters Association 
Josie Music Awards
World Songwriting Awards
She made it to the finals in all three
& actually has won the gold award in the
"International Female Songwriter" category at the ISSA awards ceremony in Atlanta, Georgia
She will be also be attending the Josie Music Awards in Dolly Parton's Dollywood complex in September
Let The Desert Wind Blow
Latest Video
Check out The Pink Cowgirl's latest video HERE.
"Let The Desert Wind Blow" was filmed at St Ouen in Jersey, Channel Islands.
Shot in Sepia with a real old-time Western look & feel, this video will make you feel like you're back in time on the Arizona plains - and the song's great too!
Latest Country Music News
DOWNLOAD COMPLICATED FULL ALBUM 
"COMPLICATED" is available to buy from here
or from any of the outlets below: 
Amazon Music, iTunes, Spotify, YouTube Art Tracks, Google Play, Deezer, iHeartRadio, Napster, MediaNet, Shazam, Boomplay Music, VerveLife, Tidal, Gracenote, 7Digital, Juke, Slacker, KKBox, Akazoo, Anghami, Spinlet, Neurotic Media, Yandex, Target Music, ClaroMusica, Zvooq, Saavn, 8tracks, QSic, Musicload, Kuack, SimfyAfrica,
Country - The Music, The Singers & The Songs
Country Music News
Welcome from The Pink Jersey Cowgirl
Here you'll find the latest country music news, newly released songs and all about my favourite country singers, as well as the latest news about my own music, my own folk songs, my country songs and my albums as they become available.
 
Album Out Now! - Complicated!
The Pink Cowgirl | Country music songwriter